Browsing articles tagged with " radfem rise up!"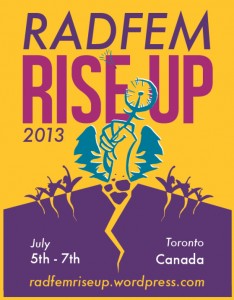 I needed to write on what went down at the Radfem Rise Up! conference in Toronto because I'm the one who gathered the organizing group in February 2013. People tell me official group statements are the proper protocol,  however reading a solid recap of events  by an attendee convinced me it might be best to speak for myself and encourage others to do the same. I trust my co-organizers are dedicated radical feminists and I respect their opinions while wanting to tell my own story.
RadFem Rise Up! was put together by two Americans and three Canadians. Presenters were slated to speak on reproductive rights, the tragedy of Rehtaeh Parsons, the Bedford prostitution case, and human rights history. Trans issues were not on the schedule once we decided radical activist history and strategies would be our theme.
The first sign of trouble was an imposter website claiming we advocate homicidal violence against prostitutes and transpersons. Everybody agrees such mimicry is wacko in an unseemly way. It's also familiar to me from my anti-pornstitution activism. All I want to do is stomp out johns. I created the Genderberg forum community to achieve that end, and along my path to ending the patriarchal demand for unlimited access to women I got publicly labeled a terrorist by an infiltrator to my forum:

I am the person who broke the precious 'wall of silence' on Genderberg.

Many of the 'feminists' in the anti-pornography and anti-sex worker movement are driven by hatred, anger and jealousy. I watched their non-stop attacks against other women and their constant blaming and shaming and it made me sick!

Over time I got fearful. You can't really understand the hatred that is embodied in many of the posts on Genderberg. I was worried about what they would do to the targets of their hatred and anger. Many members of that forum simply do not see other women as human at all.

When I could not take the fear any more I broke my silence and sent out some letters letting people know what was happening in Genderberg. While many will claim that Genderberg is a "safe space" my belief is that there should be no safe space for those who work to destroy women. There should be no dark corner where ANYONE can get together and plot against or foster hatred of women. Misogyny deserves no shield to hide behind.
There's a familiar, unhinged loopyness to such fears of feminists talking with each other privately. It's a sinister obsession I also encountered when hosting Radfem Reboot in 2012. Violent threats hit the Facebook page furiously, then they hit our inboxes and the window of a Wells Fargo bank.
These were the same transactivists seeking to "destroy" Radfem Reboot in 2012. Shortly before Reboot they posted the hotels where women were staying with a plan to stalk and follow them to the venue. Add the fact that Lierre Keith, who had once been assaulted while speaking, was getting singled out for attack and I decided to call the police. Radfem Reboot concluded without another pugnacious peep.
Back in Toronto, our next concern was that Maggies, a Toronto group lobbying for the sex industry, had hastily convened a counter-event  to our little shindig. Like the mock website, we considered it tacky but harmless and went about our business. Maggies is backed by the financial resources of the sex industry. Most transpersons go about their lives without harassing feminists, but the ones that appear to live for harassing us are all pro-pornstitution and that synergistic alliance is noteworthy.
Someone from Maggies lied to get on our registration list and execute a coordinated bombardment of Beaver Hall. Similar scare tactics were used when UK transactivists teamed with men's rights misogynists to make various London venue staffs fear for their safety if they hosted feminists.
The conference coordinator who lives at and booked Beaver Hall for us, Trish, reported that her board said they were afraid of the threats to people and property and had to reconsider whether to let her use the space. The hundreds of admittedly "aggressive" emails received in a few short hours couldn't all have been read by Beaver Hall, but the sheer volume was intimidating and they reneged.
When I heard the administrators at Beaver Hall were too freaked to stand up for women I was not surprised. The administrator's changing stories about the threats and refusal to share the emails with either Radfem Rise Up! organizers or police was disappointing but not surprising. Learning that a patsy frauded her way into the conference to spy on us and reveal our location so they could continue to harass us was a surprise. For an organization which prides itself on freedom of speech and criticizing abusive state powers, Maggies sex work lobby held their counter-event but wouldn't accord us the same right to assemble. Then they used authoritarian tactics against a small group of politically marginalized women.
Given the history of violent threats, it was terrifying to see the call out to mob us where we slept. A few months ago I had a racist loudmouth kicked off a bus and he ran towards me with his fist cocked to strike. I thought, "He wouldn't dare while everyone's watching" then I thought it prudent to remind him I would call the cops if he touched me. I tried to rationalize that sex industry and transactivists wouldn't go so far as to throw rocks through windows or accost me while I took out the recycling, but every day angry men forget they will go to jail for indulging their violent impulses and women die.
Frightened women waiting for the police to arrive is a scene that will haunt me. I invited them to Toronto. We told them we would rent a house and provide two meals a day for three days. We screened registrants the best we could and kept the venue private, but when someone is determined to spend weeks working on how to violate your boundaries they will eventually accomplish their penetration.
Some couldn't sleep as we waited for the police. Others were so scared they considered going to a hotel. Ultimately everyone stayed, and everyone who slept elsewhere Friday came back Saturday plus a few more. When the officer saw the evidence he took us seriously just as the police in Portland did. These are serious threats being made.
It was an immense relief to get back to conference business Saturday morning. Once Rachel Ivey started what wound up being a two and a half hour workshop on abortion and reproductive rights we mostly forgot about the attention-seeking bullies outside. My talk was interrupted twice as women stationed at the windows reported suspicious passersby, but I got back on track and finished. We were still cautious, but we had moved from fear to righteous anger at the deceptions and intimidations. We are radical feminists, we have been silenced too many times before, we do not accept the forced silencing of women.
There was a baby boy at the conference and I'm especially glad he was because it gave the mothers in the room ample opportunities to compare notes. I'm rarely around young children so each casual conversation about pregnancy, lactating, child development and more was a window to a new world for me. These are exactly the kinds of conversations woman-only spaces foster.
We prevailed in working on the woman-centered projects we came to accomplish despite the malignant disruptions. Investigations into the threats made against Beaver Hall continue. Radical feminists will continue to meet publicly and privately. The more violence-inclined misogynists reveal themselves, the sooner we can move past this age of selfishness and waste. All I want is to stomp out men's sense of entitlement to control women.
Y'know, there hasn't been a radical feminist conference in the US South for a long time.
Prostitution FAQ
Radio Interview
"Interview with Samantha Berg: A Primer on Radical Feminism" with Ernesto Aguilar for Pacifica Radio, originally aired on Houston, Texas channel 90.1 FM KPFT, June 25, 2014