Browsing articles tagged with " activism"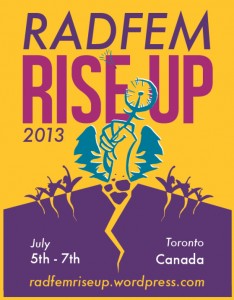 I needed to write on what went down at the Radfem Rise Up! conference in Toronto because I'm the one who gathered the organizing group in February 2013. People tell me official group statements are the proper protocol,  however reading a solid recap of events  by an attendee convinced me it might be best to speak for myself and encourage others to do the same. I trust my co-organizers are dedicated radical feminists and I respect their opinions while wanting to tell my own story.
RadFem Rise Up! was put together by two Americans and three Canadians. Presenters were slated to speak on reproductive rights, the tragedy of Rehtaeh Parsons, the Bedford prostitution case, and human rights history. Trans issues were not on the schedule once we decided radical activist history and strategies would be our theme.
The first sign of trouble was an imposter website claiming we advocate homicidal violence against prostitutes and transpersons. Everybody agrees such mimicry is wacko in an unseemly way. It's also familiar to me from my anti-pornstitution activism. All I want to do is stomp out johns. I created the Genderberg forum community to achieve that end, and along my path to ending the patriarchal demand for unlimited access to women I got publicly labeled a terrorist by an infiltrator to my forum:

I am the person who broke the precious 'wall of silence' on Genderberg.

Many of the 'feminists' in the anti-pornography and anti-sex worker movement are driven by hatred, anger and jealousy. I watched their non-stop attacks against other women and their constant blaming and shaming and it made me sick!

Over time I got fearful. You can't really understand the hatred that is embodied in many of the posts on Genderberg. I was worried about what they would do to the targets of their hatred and anger. Many members of that forum simply do not see other women as human at all.

When I could not take the fear any more I broke my silence and sent out some letters letting people know what was happening in Genderberg. While many will claim that Genderberg is a "safe space" my belief is that there should be no safe space for those who work to destroy women. There should be no dark corner where ANYONE can get together and plot against or foster hatred of women. Misogyny deserves no shield to hide behind.
There's a familiar, unhinged loopyness to such fears of feminists talking with each other privately. It's a sinister obsession I also encountered when hosting Radfem Reboot in 2012. Violent threats hit the Facebook page furiously, then they hit our inboxes and the window of a Wells Fargo bank.
These were the same transactivists seeking to "destroy" Radfem Reboot in 2012. Shortly before Reboot they posted the hotels where women were staying with a plan to stalk and follow them to the venue. Add the fact that Lierre Keith, who had once been assaulted while speaking, was getting singled out for attack and I decided to call the police. Radfem Reboot concluded without another pugnacious peep.
Back in Toronto, our next concern was that Maggies, a Toronto group lobbying for the sex industry, had hastily convened a counter-event  to our little shindig. Like the mock website, we considered it tacky but harmless and went about our business. Maggies is backed by the financial resources of the sex industry. Most transpersons go about their lives without harassing feminists, but the ones that appear to live for harassing us are all pro-pornstitution and that synergistic alliance is noteworthy.
Someone from Maggies lied to get on our registration list and execute a coordinated bombardment of Beaver Hall. Similar scare tactics were used when UK transactivists teamed with men's rights misogynists to make various London venue staffs fear for their safety if they hosted feminists.
The conference coordinator who lives at and booked Beaver Hall for us, Trish, reported that her board said they were afraid of the threats to people and property and had to reconsider whether to let her use the space. The hundreds of admittedly "aggressive" emails received in a few short hours couldn't all have been read by Beaver Hall, but the sheer volume was intimidating and they reneged.
When I heard the administrators at Beaver Hall were too freaked to stand up for women I was not surprised. The administrator's changing stories about the threats and refusal to share the emails with either Radfem Rise Up! organizers or police was disappointing but not surprising. Learning that a patsy frauded her way into the conference to spy on us and reveal our location so they could continue to harass us was a surprise. For an organization which prides itself on freedom of speech and criticizing abusive state powers, Maggies sex work lobby held their counter-event but wouldn't accord us the same right to assemble. Then they used authoritarian tactics against a small group of politically marginalized women.
Given the history of violent threats, it was terrifying to see the call out to mob us where we slept. A few months ago I had a racist loudmouth kicked off a bus and he ran towards me with his fist cocked to strike. I thought, "He wouldn't dare while everyone's watching" then I thought it prudent to remind him I would call the cops if he touched me. I tried to rationalize that sex industry and transactivists wouldn't go so far as to throw rocks through windows or accost me while I took out the recycling, but every day angry men forget they will go to jail for indulging their violent impulses and women die.
Frightened women waiting for the police to arrive is a scene that will haunt me. I invited them to Toronto. We told them we would rent a house and provide two meals a day for three days. We screened registrants the best we could and kept the venue private, but when someone is determined to spend weeks working on how to violate your boundaries they will eventually accomplish their penetration.
Some couldn't sleep as we waited for the police. Others were so scared they considered going to a hotel. Ultimately everyone stayed, and everyone who slept elsewhere Friday came back Saturday plus a few more. When the officer saw the evidence he took us seriously just as the police in Portland did. These are serious threats being made.
It was an immense relief to get back to conference business Saturday morning. Once Rachel Ivey started what wound up being a two and a half hour workshop on abortion and reproductive rights we mostly forgot about the attention-seeking bullies outside. My talk was interrupted twice as women stationed at the windows reported suspicious passersby, but I got back on track and finished. We were still cautious, but we had moved from fear to righteous anger at the deceptions and intimidations. We are radical feminists, we have been silenced too many times before, we do not accept the forced silencing of women.
There was a baby boy at the conference and I'm especially glad he was because it gave the mothers in the room ample opportunities to compare notes. I'm rarely around young children so each casual conversation about pregnancy, lactating, child development and more was a window to a new world for me. These are exactly the kinds of conversations woman-only spaces foster.
We prevailed in working on the woman-centered projects we came to accomplish despite the malignant disruptions. Investigations into the threats made against Beaver Hall continue. Radical feminists will continue to meet publicly and privately. The more violence-inclined misogynists reveal themselves, the sooner we can move past this age of selfishness and waste. All I want is to stomp out men's sense of entitlement to control women.
Y'know, there hasn't been a radical feminist conference in the US South for a long time.
Published in feminist journal Rain & Thunder issue #56, Spring 2013
Laurel Long took the time to interview Samantha Berg, a generation X radical feminist and anti-pornstitution activist. Berg was a lead organizer for Radfem Reboot, an all-womyn gathering held in Portland, Oregon in July 2012.
Laurel Long (LL): How did you discover radical feminism?

Samantha Berg (SB): A woman once wrote that her feminist process was: liberal, feminist, pro-sex feminist, radical feminist. My radicalization process looks a lot like that, landing on radicalism in my mid 20s.
The first change was realizing that being feminist is believing in women's liberation as per the femin- part, but it's equally grounded in the suffix -ist marking someone who takes action. Usually there will be overlap in what serves all women and what serves me, but I'm speaking in the deepest philosophical sense of committing oneself to bettering the lives of all women.
Then I began reading and openly identified as a feminist. Soon I learned enough to realize my use of and support for pornography (strip clubs, other pornstitution) fit under pro-sex feminism, and I accepted that. The shift from pro-sex to radical took about two years beginning to end. I hadn't been applying my feminism to pornography for all the usual reasons like acceptance from my porn-using partner, the thrill of being a baddie bad girl who used a boy thing, all those twirly emotions that collide around sexuality.
I was becoming more radical in other areas of my life. Still a porn user, I moved from NYC to Portland, a city famous for its unconventional politics and booming prostitution industry. I continued my poverty-relief campaigning while honoring my feminism through pro-choice activism. These forces came together in actualized practice when I began to find myself turned off by the idea of using pornography from 1) a feminist viewpoint 2) an anti-corporate control over media viewpoint 3) a sexual health educator's viewpoint.
In the longer version there are the people I've loved who suffered from and lost their lives to prostitution, but I'll skip that personal portion of the narrative for now. This is the part where I find through the internet that there are other feminists who feel about pornstitution the same way I had come to feel about it. They also turned out to be anti-corporate, anti-war, pro-environmentalism and pro-alternative politics, just like me. They called themselves radical feminists and after more reading I decided it was a fitting term.

LL: Some women have said that discovering radical feminism saved their lives. Would you say this is true for you?
SB: I wouldn't say that's accurate for me. Anti-pornstitution activism gives me purpose and pride and it makes me feel less crazy in a world where the insanity of male supremacy lords over us all, but it didn't spark renewed life in me. The people in my life who have cared for and supported me are the ones who "saved my life," radical feminism is the love that I'm able to give back now that I'm in a safe and trusting place.

LL: What do you think are the biggest obstacles facing women today?
SB: Corporate media exploitation of women's fears and insecurities. From movies to music to the internet, my generation of women consumes images produced by others (almost entirely men) at a greater rate than ever before. We're drowning in a sea of woman-negative media that would be hard to stay afloat in with rafts, and we don't have those. As we struggle uphill to procure basic tools like critical analysis and freedom from unwanted media intrusion, corporate psychologists work harder to worm into the subconscious minds of the most dubious, skeptical media consumers.

LL: One problem women with your politics face is finding other women with similar politics. How many other radical feminists do you know near where you're located?
SB: There are about a dozen radfem acquaintances in the Portland area. I've worked with them on and off for years on specific protests and projects.
Lately there's been a resurgence of anti-prostitution energy as housewives, businesswomen, and retirees are coming together to address the Pacific Northwest's especially large problems with rape slavery. They are my friends and colleagues, but most wouldn't call themselves radical feminists. No matter, they're targeting johns and talking honestly about porn, which makes them more woman-centered than the poseurs of popular feminism.

LL: Are you active on the feminist blogosphere? Does this help keep you sane? In any case, what else do you do to maintain as much sanity as possible in this f-ed up world?
SB: Yes and yes. Fighting back is the healthiest thing a shit-upon woman can do. I make no claims to having maintained my sanity.

LL: What is your vision for change in the next 5-10 years?
SB: Nordic model all the way, baby. Mandatory health protections for pornstitutes and strippers. Actual application of laws that are supposed to keep pornography away from kids.

LL: What do you wish you had known five years ago?
SB: The johns, the johns, the johns. Stay on target. Capitalists and apologists will do everything to talk about anything but the johns.

LL: This is your moment! What would you like to say to young women today?
SB: The situation is grim, but we have the solution. Susan B. Anthony watched as nation after nation passed women's suffrage, and in my lifetime I've seen the same global sweep with the Swedish model of prostitution. We are living through an exciting and productive time to be a radical feminist.

LL: I'm curious to know more about the Radfem Reboot event held in July 2012. What were the successes?
SB: Feedback has been that Reboot was a particularly congenial event as such political gatherings go. I'm a veteran of anti-trafficking and pro-women conferences, but I haven't clocked as many years as some of the women who told me how pleased they were with the overall civility of the weekend. Personally, I'm most proud of the behind-the-scenes chaos being handled well enough that attendees were none the wiser.

LL: What would you do differently if you held the event again?
SB: Honestly, it was the conference of my dreams and I wouldn't make any big changes. This was my chance to do a radfem conference Bergstyle and I'm pleased as a peach with how it went. The speakers were women I wanted to learn from, the breadth of topics was impressive and favored my anti-pornstitution interests by design, and friends I've been collaborating with for years flew across the planet to give me hugs. Organizing Radfem Reboot made me feel so useful, respected, and loved that it would be greedy to ask for more.

LL: Is there anything that came out of the event that would be good for Rain & Thunder readers to know about?
SB: Preliminary plans for more conferences would probably be of most practical interest to readers and I'm sure the details of those are forthcoming, so I'd like to share a more spiritual anecdote.
There was one woman who participated not because she was a radfem or knew anyone there, but because she lived down the street from the venue and stepped inside to use the bathroom Saturday morning. Seeing our large gathering of only women, she took a seat and wound up staying through Sunday night. The Portland sisterhood grew by one and once again I felt vindicated in every way about radical feminism because our advanced theory workshops spoke to the soul of a woman simply passing through. At our most philosophical we don't stray from the axis of real women's lives and truths.
That's the first story I tell non-radical feminist friends when they ask how my conference went, but my favorite story came out of Saturday night's group activism. Alas, that one can only be told in person so you'll have to get yourself to the next radfem gathering and ask me or another woman who participated about it. I promise it's worth the travel and lodging costs.
Laurel Long is a 26-year-old radical feminist activist who first "met" Sam Berg through her fantastic online website www.genderberg.com When not engaging in radical feminist activism, Long works as a sexual assault and mental health crisis counselor.
Prostitution FAQ
Radio Interview
"Interview with Samantha Berg: A Primer on Radical Feminism" with Ernesto Aguilar for Pacifica Radio, originally aired on Houston, Texas channel 90.1 FM KPFT, June 25, 2014