Browsing articles tagged with " prostitution"
Published online at Feminist Current and printed in the April 2021 book Spinning and Weaving: Radical Feminism for the 21st Century edited by Elizabeth Miller.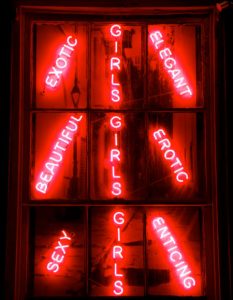 Another research paper promoting the legalization of prostitution as beneficial has been released. Titled, "Associations between sex work laws and sex workers' health: A systematic review and meta-analysis of quantitative and qualitative studies", the report was funded by the staunchly pro-legalization Open Society Foundation in service of "tackling the structural drivers of HIV."
Investigating the structural drivers of HIV transmission is a noble public health goal, however it is not a feminist goal. Feminism centers its advocacy and education on bettering the lives of women and girls. I have been writing feminist analyses of prostitution research for several years, which is to say I read prostitution research with the question, "How does this serve women and girls?" on the top of my mind.
Expecting people to pore through the daunting statistics and methodologies that sometimes spin even my academically-inclined head is unrealistic and also unnecessary. Statistics are useful to quantify the severe harms of prostitution, but I have found more success convincing people that legalization exacerbates prostitution's harms when I lay off the numbers and lay into common sense rationale connecting my audience to recognizable elements in their own lives.
I wrote the "Genderberg Prostitution FAQ" in 2005 to emphasize reason over statistics and it remains the most popular page on my archived website Genderberg.com. Few emotions are more satisfying to me than occasionally seeing someone reiterate my point, "There is no other 'job' where a 13-year-old with zero experience can be sold for 100 times the price what a 23-year-old with ten years experience is sold."
For December 17th's International Day to End Violence Against Sex Workers, here are ten more pithy explanations for how prostitution is much more aligned with exploitation than with work.
1) No job title is threateningly flung in the faces of women and girls all over the world the way "whore" and its many synonyms in many languages are used to commit verbal abuse.
2) Prostitution is often compared to coal mining. Harms to coal miners are accidents that safety equipment aims to reduce; harms to prostituted women are intentionally inflicted on them. Pornography commonly portrays harming women as an attractive goal for consumers.
3) Prostitution is often compared to low-paid McJob work. Fast food employees don't need specialized social services to "help" them quit the way prostitution survivors need protecting from pimps. When prostituted women escape they are more often in the same situation as domestic violence victims, fleeing from imminent harm with only the clothes on their back and the fear of being recaptured in their minds.
4) Prostitution is often compared to cleaning toilets. Being forced by economic necessity to clean toilets every day would be deeply unpleasant but it isn't rape and it doesn't leave people with PTSD, sexually transmitted diseases, or unwanted pregnancies. Anyone who has both cleaned a toilet and engaged in sex could explain the vast differences in these two activities.
5) Prostitution is not service work, it is bodily exploitation. The sex, race, and age of who provides a legitimate service doesn't matter for cashiers, plumbers, accountants, cab drivers, etc. the way it matters to prostitute-using men who won't accept sexual services from a man's body when they want a woman's body or from an elderly woman's body when they want a young girl's body.
6) There is no occupation that can be done while the worker is unconscious. Prostitutes are often drugged, passed out from unendurable pain, or have head trauma inflicted on them before and during being sexually assaulted.
7) Prostitution is not an entertainment media profession like modeling or acting. Actresses pretend to have sex, prostituted women are not pretending having sex and the harm to their bodies and minds is evidence of exploitation, not an occupation. There is no trafficking ring forcing teenage girls to perform Shakespeare for men's leisure.
8) Basic work safety conditions are impossible to reconcile with prostitution. Laws about occupational exposure ("reasonably anticipated skin, eye, mucous membrane, or parenteral contact with blood or other potentially infectious materials") mandate latex gloves, eye goggles, face masks, and aprons to protect employees. Prostitution can never be OSHA compliant.
9) Unionization is not possible. Pimps and pornographers call themselves sex workers because they are employed in the sex industry as they lobby for deregulation and exceptions to worker safety laws. You can't negotiate your way out of being raped when enduring unwanted sex is the job.
10) "I'll give you a dollar if you let me punch you in the face," is not a freelance job offer and neither are prostitution solicitations. Men soliciting for prostitution in public are not magnanimously offering women jobs, no one approaches strangers in the street with offers of gainful employment.
published at Feminist Current September 1, 2015

Philip Michael Peck was a gay boy and my best friend in high school. We met over Whoopie Goldberg in the back of the science room. We hadn't ever spoken before and he had his usual gaggle of girls around him when one girl said Whoopie was ugly. Phil indignantly exhorted, "Whoopie Goldberg is beautiful!" and the girls scoffed for the half moment it took me to lift my head and confirm, "Whoopie Goldberg is beautiful." His eyes met mine and we fell in love.
Phil started prostituting at fourteen when older men solicited him in New York City mall bathrooms. From there he went on to do gay pornography and live sex shows. He would send me pictures of him performing drag shows under the name Marissa (my middle name) and tell me how he got free drinks if he performed. I did not get pictures from the two times he drank so much vodka he coughed blood and spent weeks in the hospital.
Phil and his partner of six years, Darren, lived for years as male prostitutes in New York City. They were "rentboys" in the current euphemistic parlance. Once when I visited, Darren kept awkwardly standing around because he had gotten painful shots in the ass to cure the syphilis one of his regular johns had given him.
Phil told me about stealing a bag of cocaine from a john and ended the story with, "Honey, this city better be big enough for the both of us because I can't see him again." He ran a small gay escort agency until he got arrested in a hotel overlooking Madison Square Garden.
Phil and Darren both tested HIV positive. Darren got sick and died after a lightning fast three weeks in the hospital. AIDS can be a protracted illness, but the speed at which it took Darren shook me.
Phil kept turning tricks after learning he was HIV positive. No worried lecture from me could change his need for money, and none of my conscience-buckling at the thought of him spreading AIDS could change his reckless behavior so I supported him with the unconditional love of lifelong friends.
Philip died at the age of thirty-two because of men's belief in their right to economically coerced sex on their own abusive, risky terms.
I used to brag to people with sex positive pride that I had sex worker friends who were living the good life. Doing this boosted my own sexy street cred and I consciously chose not to relay the ugly truths they told me about getting raped and getting various sexually transmitted diseases.
I don't blame myself for the pains he went through living by prostitution and dying by AIDS, but I can't help wondering if things might have been different if I didn't encourage his and Darren's prostituting all those years.
I think of Phil when I read about how legalizing prostitution is supposed to make prostituted people safer from rape and sexually transmitted diseases like AIDS and syphilis. I think of how Phil worked in the legal porn industry that has had multiple decades to demonstrate how safe legalized prostitution can be, and I think of how very weak the case for legalized prostitution becomes when positioned next to the massive failures of corporate pornographers to protect the pornstitutes in their employment.
I consider the idea that legal prostitution would reduce sexually transmitted diseases not just anti-common sense and anti-science, but also demonstrably not the agenda of the already legal pimps called pornographers. Pornographers have fought hard against protecting sex workers from the obvious risks of industrialized sex-product production, but free market libertarians like Graeme Reid, Eric Sasson, and Tara Burns have convinced themselves this predictable result of capitalism will be different once prostitution without cameras is made legal.
I am glad Matthew Ebert is still alive to tell his tale, and I'm glad the anonymous man writing in the Guardian is still alive to tell his tale, but they can't bring Phil and Darren back to life so that they can tell their tales too.
I last saw Phil in a coffee shop near Madison Square Garden. He had stopped prostituting, beat his addictions to hardcore drugs, and was struggling to overcome alcoholism as he volunteered with the Gay Men's Health Clinic. He spoke about a former john who hired him to clean his massive Westchester house, but every time the man made a sexual advance Phil refused. "It's not worth it anymore, not for all the money he has," he told me that last time I would see him. He told me how proud he was of the anti-prostitution work I do.
I could spend every day of my life speaking for my dead best friend and it would not put back on this Earth what was taken away by johns who put their power-playing pleasure above other people's lives. I will spend my whole life fighting against the sexual commodification of human beings that took away my best friend.
Samantha Berg is a radical feminist journalist, activist, and event organizer. Her articles have been published in progressive media for over a decade, and in recent years she has organized anti-prostitution political events in the United States and Canada. Samantha's blog is JohnStompers.com and her website, Genderberg.com, is dedicated to Phil.
published at Feminist Current November 24, 2014

Hitler wrote in Mein Kampf that if you're going to lie you should make it a whopper,
For the grossly impudent lie always leaves traces behind it, even after it has been nailed down, a fact which is known to all expert liars in this world and to all who conspire together in the art of lying.
Permit me to show you a lie so grand its telling should cause alarm, but it doesn't because the deception is in service of solidifying men's absolute ownership of women.
I triple check facts before stating them. Operating on the niggling thought that my political opponents might make a valid argument against my preferred prostitution solution of criminalizing johns, I have dived into every policy paper on prostitution I have gotten whiff of for thirteen years.
You may have encountered the results of my labors before when I wrote about Norwegian research that unintentionally affirmed the success of criminalizing johns.
The Prostitution Reform Act of 2003 (PRA) decriminalized prostitution in New Zealand. At the same time, the Prostitution Law Review Committee was established to report within 3 to 5 years on the number of New Zealand's newly dubbed "sex workers." Here is that 2008 report.
The summary concludes decriminalization did not increase street prostitution. The contents of Section 8 prove street prostitution went up and more than doubled between 2006 to 2007 in Auckland, New Zealand's largest city.
The official press release was based on these comments from the summary (bolds mine),
The numbers of street-based sex workers have remained stable since the enactment of the PRA, with comparable numbers on the streets to estimates done prior to decriminalization. The Committee endorses the findings of the CSOM (Christchurch School of Medicine) that the enactment of the PRA has had little impact on the numbers of people working in the sex industry.
Buried in Section 8 is evidence about increases in street prostitution since the law passed,
Research undertaken by the CSOM in February and March 2006 found 253 street-based sex workers in New Zealand…In Auckland 106 street workers…in Wellington 47 street workers…and in Christchurch 100 were recorded.

Between June and October 2007, CSOM carried out another estimation of street-based sex workers…In Christchurch 121 street-based workers were counted and in Wellington 44 street-based sex workers were counted. In Auckland, 230 street workers were known to be working.
Wellington 47, then 44
Christchurch 100, then 121
Auckland 106, then 230
Section 8 also documented,
Auckland outreach workers also reported an 'influx of sex workers on the streets in the six to eight months prior to June 2007.'

Streetreach is a non-governmental organisation that provides support for street-based sex workers in Auckland and Manukau cities. Streetreach believes there has been an overall increase in the number of street-based sex workers in the Auckland region since decriminalization.

In Christchurch, some residents in and around the street prostitution area report an increase in the number of sex workers since the passage of the PRA (St Lukes Body Corporate, 2007).
Clearly, many people who live next to and work directly with street populations have reported increased street prostitution in New Zealand.
That Executive Summary once more to refresh your memory,
The numbers of street-based sex workers have remained stable since the enactment of the PRA, with comparable numbers on the streets to estimates done prior to decriminalization…the Committee endorses the findings of the CSOM that the enactment of the PRA has had little impact on the numbers of people working in the sex industry.
What a whopper.
Some fabrications announce themselves, and some rely on subtle sleights of hand. The summary continues:
A comparison between the number of sex workers in Christchurch in 1999 and 2006 shows that the total has stayed approximately the same over that period.

Why stop at 2006 when the research went through 2007? Christchurch had 100 street prostitutes in 2006 and 121 street prostitutes in 2007.
The 2006 is no slip, it is New Zealand's Ministry of Justice deliberately hiding 2007's statistics about significant growth in the most violent form of prostitution—street prostitution.
Reading book-length documents full of terrible testimonies makes me grind my jaw while my eyes absorb the pages. Sometimes I pause to cry. However, if you boil your blood long enough and with the right ingredients, it condenses to become more solid than liquid. After all the time I have spent pouring the collected knowledge about prostitution from multiple countries into myself and simmering, I am as solid as a bead of ancient amber that prostitution abolition is the future of humanity.
published at Feminist Current June 12, 2014


So men, what do you want to hear?
Not all men are like that? You're not like those other men?
Let's say I tell you men that you are wonderful, kind, heroic and humble. Will these words of praise stop the girl enslavement called "child marriages"?
If women change tactics from demanding the return of girl children stolen in Africa, if instead we engulf men in a cascade of compliments assuring men that we know they are decent and devoted, will men return our generosity by raising the average age a girl enters prostitution out of the early teen years?
So men, if it is not flattery you want from women, what are the words you want to hear? What can women say that will cause you to finally stop what you have always had in your manly hands the power to end?
Women have been forgiving of what men have done to us. We have to if we want to leave our homes. We have to forget what pornography shows us men like to masturbate to if we want to go to work or buy food while looking into the porn-soaked eyes of the men around us. We have to forget what happened the last time we went out, and the time before that, and we need to remember the times nothing happened.
I'll remember that you are the good ones and that most violence is really the fault of madness or money. I will forgive and forget whatever it is you want of me if you tell me what you want to hear women say. Then good men like you will stop telling us how we're doing feminism wrong, because we'll be doing it exactly as you command.
Then men will stop the violence your mentally ill brothers and financially destitute brothers commit against girls and women.
Men will stop the violence.
Not because women have always begged men to stop. Not because women have always acquiesced to silent invisibility in the hope that men would respond with civility. Not because men haven't kept masculinity's vaunted promise to protect women and children.
Men will stop the violence because women will finally have spoken the word sequence whose non-utterance has kept the dignity of full personhood out of women's grasp.
So men, enough with telling women when we speak the wrong words. What would you have women say to get men to end the violence sinking humanity's ship, the result when something naturally balanced is forcibly tipped for too long?
You can go over Twitter's 140 characters if you need to, or whatever Facebook's limit is, but do try to keep it from becoming a 141-page manifesto if you can.
Just say the words and I will work tirelessly getting women to repeat them, then men will stop the violence.
Men will stop the violence.
Women will say what men want to hear and men will stop the violence.
And that will work this time.
Let's talk turf.
Portland has been my stomping ground for twelve years. In 2012 when I organized the Radfem Reboot conference, women came from Canada, Australia, France, and Scotland to meet women they had known online for years. There have been over a dozen regional radfem meetings around the world since then, most of them organized quietly to avoid the threats of male violence that public feminism seems to inevitably bring these dark days.
But Portland is my turf and I know the lay of the land. I've made connections with Portlanders and know it as well as any cat knows her territory. If an open radical feminist event were to happen, I felt most comfortable having it in the City of Roses.
When I approached the venue that hosted Radfem Reboot to rent the same space for Radfems Respond, I responsibly warned them of the maelstrom of harassment about to land in their laps. On March 14 I brought the Multnomah Friends (Quakers) a fat folder with articles and news stories of radfems all over the world being harassed at home and at work and being no-platformed. I optimistically gave them an article on how the sex industry lobby in Tasmania failed to force Tasmanian Friends to cancel a talk by radical feminist Sheila Jeffreys.
They asked to meet with me and I obliged, ultimately spending an hour speaking with two clerks. They asked for biographies and websites for the event's five speakers and I provided them. On March 26th the Multnomah Friends confirmed,
"We received your list of websites for the speakers for the "RadFems Respond: A Day of Discussion" and have reviewed them. We find nothing in them that would cause us to ask you to find another place to meet."
I thought we were cool. Flights were booked, a house near the venue rented, and plans proceeded generally. Then a Quaker with a thing for licking machetes and calling radical feminists a "hate group" started a petition to exterminate Radfems Respond.

"Radical Feminists are often a bigger threat to the safety and dignity of trans women that [sic] society at large…The rate of suicice [sic] for trans people hovers around 50%. Many of these deaths were caused directly or indirectly by Radical Feminist attacks and rhetoric. Those who stand for non violence will agree that radfems have no place in a Quaker space."
petition-starter Hollis Proffitt
Three weeks later, the Friends caved. When I reminded them of my fat folder and the predictable pattern of these harassment campaigns, three of the four Friends that Rachel Ivey and I met with admitted they didn't read Hollis Proffitt's petition. They were angry the petition went up and refused to look at it. My concern that their community's response was distorted by the lies in the petition was met with this incredulous reply by a Friend who said of his decision not to read the petition, "External pressures did not impact our decision."
When I asked why they changed their minds, I was told their decision-making was "a spirit-based process, not head-based," made by "not individual facts or figures but as a matter of spiritual worship," and that "It was a sense from our spirit about where we were led to move."
Color me shocked that a religious order just sort of felt in their gut that women don't deserve a public platform to speak. Rachel astutely observed that their intense de-politicizing and refusal to admit external pressures on their community aligns perfectly with liberal, third wave postmodernism in which societal systems assert no influence over the choices every Friend apparently came to independently.
I hastily contacted the backup venue I had arranged (see above, "predictable pattern of these harassment campaigns"). The Multnomah County Central Library quickly confirmed Radfems Respond, and transgender activists quickly assailed them to shut down the event in the name of free speech. Some unhinged thug named "QuiddityQ" posted a call to arms on Portland Indymedia.
"We questioned the library administration about allowing a hate group who promotes discrimination and their response is that they cannot kick them out because of freedom of speech. So we also exercise our right to free speech in public space this Saturday to drive the TERFS and RadFems out of OUR library and OUR Portland!"
In the early oughties I self-published through Indymedia in addition to getting published in progressive newspapers because I believed in the potential for writer-activists to "become the media". It wasn't a total failure, but as has happened with other online media, antagonistic bullies pushed out genuine contributors. I don't go to Portland Indymedia anymore because of their manarchist tendency to delete even the mildest pro-feminism posts. A germane example from this week shows the site editors leaving an incitement to disrupt Radfems Respond and another one titled "TERF: Cancer of the Leftist Movement", yet rejecting a post respectfully criticizing the ethics of shutting down feminist events.
A library official responded in a comment to the Portland Indymedia article,
"You may participate in the meeting by expressing your views and allowing others to express their views. You may not disrupt the meeting."
Enough accolades cannot be given to the responsive staff and security guards at the Multnomah County Central Library. They were entirely magnanimous about their commitment to women's freedom of speech, and in all truth I think they got righteously ticked off at being pushed around by a bunch of intimidating jerks.
With the room secure, I had to douse another fire when trafficking survivor Dawn Schiller called me to say she was considering cancelling. Dawn doesn't know anything about trans-anything, but she knows too well the credible threat of male violence when she sees it. As so many of us before, at first she was rationally afraid of the danger posed, then she got mad at men trying to frighten women out of public participation. After the immediate trauma eased its grip, Dawn decided to speak her story with the caveat that her daughter stay safely away. Sadly, several registered women also chose to cancel rather than face the volatile scene angry men were promising to produce.
Not one protestor showed up.
You can watch Lierre Keith's and Rachel Ivey's talks for yourself. At Dawn's request we stopped filming while she recounted her time in prostitution, She finished with a commitment to helping other survivors rebuild their lives and received a standing ovation, and added how much she regretted not having her daughter there with her.
Kathleen Barry was her usual erudite self explaining the latest developments in prostitution laws and detailing some of her policy-setting activities. Near the end of her presentation she pointed to empty chairs and defiantly exclaimed they represented the women who cancelled because of the threats,
This is about this conference, and about the fact that Dawn Schiller almost didn't come. And the fact that she's been traumatized, and she had to deal with that trauma in order to come. Not just in telling her story here, but in order to come she has been traumatized. You know who the people are that caused that trauma. They're the people who put up the call for taking on this conference, bringing in violence, all the aggression. As if we're not all survivors of their patriarchy! I want us […] to keep this really clear, we sit here today, you and all of us, as victims of those people who called for that violence this morning. Look at these empty seats! They are victims, they couldn't come because of fear.
Heath Atom Russell gave the final presentation of the day. She began with the jaw-dropping revelation about the Santa Barbara murders the prior night, news that was just breaking around the world. Sometimes threats of male violence turn out to be nothing as in Radfems Respond's case, and sometimes they become terrifyingly realized. Heath continued with how she grew up in an oppressive family and saw transitioning to a man as the best way to escape the emotional pain. She changed her mind after a few years and now works to warn others about predatory medical industry promises to bring peace to minds with surgery done to bodies.
The next day, while a woman-only group of radfems listened to Swedish author Kajsa Ekis Ekman speak via Skype about prostitution, the monumentally ineffective "QuiddityQ" dropped a final word on Portland Indymedia,
"The Anti-TERF/SWERF Action Team strongly and unequivocally condemns TERF hate groups WOLF (Womyn's Liberation Front) and DGR (Deep Green Resistance) holding their propaganda rally at one of our finest public institutions, Multnomah County Central Library. Given its stellar history, we strongly condemn the Library Administration for allowing hate groups to abuse our cherished Constitutional Rights.

We are indeed at war with TERF for our very own survival.

The City of Roses shall no longer tolerate feminism!"
I wrote the above recap in a mindset of recording the timeline accurately, but when I read it over I see a bad Hollywood script that I can't doctor into sanity. The film industry's collective creativity couldn't conceive a plot with antiporn radical feminists, machete-licking Quakers, transgendered threat-makers, and armed library security guards.
Stephen King said writers write either for truth or for an audience, and I have no doubt about kind of writer I am, but what to do when the truth reads so much stranger than fiction? It's difficult for me to believe for myself just how far women's human rights have devolved in the time I've been a frontline witness, so I understand if my reporting from the trenches comes off as far-fetched. I didn't sign up to be a war correspondent, and yet a war correspondent I seem to have become.
Prostitution FAQ
Radio Interview
"Interview with Samantha Berg: A Primer on Abolitionist Feminism" with Ernesto Aguilar for Pacifica Radio, originally aired on Houston, Texas channel 90.1 FM KPFT, June 25, 2014